NEM Spot Price Outcomes
Despite some price spikes early in the month in Queensland, Victoria and South Australia, average spot prices for December was lower than November.
There were only three dispatch intervals (5-minute periods) where prices reached higher levels. These were:
December where South Australia and Victoria experienced half-hourly prices of $2,069/MWh and $2,237/MWh.
December where South Australia and Victoria experienced half-hourly prices of $2,249/MWh and $2,275/MWh.
December where Queensland experienced a half-hourly price of $2,461/MWh.
These dispatch prices were characterised by changing market conditions the effect of which were small changes in the supply/demand balance. For the rest of the month prices rarely exceeded $300 and remained in the band between $50/MWh and $200/MWh, with evening peaks reaching the mid to high $20/MWh0 for short periods.
Queensland had the largest drop in average price from November by $9.70 (-11 %), followed by South Australia with a $6.40 (-6.5%) decrease from November. While there has been a decrease in prices from November, December 2018 was between 8 and 11% higher than prices in December 2017.
Overall, underlying spot prices have been sustained at levels similar to those seen in the NEM since September 2018.
Average recommended retail price for December
| Month / Region | QLD | NSW | VIC | SA |
| --- | --- | --- | --- | --- |
| Dec-2018 | 7.9 | 8.3 | 9.1 | 9.2 |
| Nov-2018 | 8.8 | 8.6 | 9.7 | 9.8 |
| Oct-2018 | 7.8 | 8.8 | 9.9 | 9.8 |
c/kWh
Temperature and Demand Trends
Average apparent temperatures rose across the NEM from November to December.
Hot weather on the 6, 7, 27 and 28 of December in Victoria and South Australia impacted the higher monthly average ambient temperatures and demand.
Queensland had several hot days on the 21st and 22nd of December before a cool change which extended over Christmas.
Average demand increased in December in all mainland regions from the previous month on the lead in to summer. The highest increase was in South Australia at 89 MW (7.5%) and New South Wales had the second highest increase at 378 MW (5%).
Compared with December 2017, average demand increased only for South Australia by 61 MW (5%), while in Victoria average demand was 77 MW lower (-2%), and in New South Wales it was 225 MW lower (-3%). There was virtually no change in average demand for Queensland from the year before.
Maximum demand increased in all mainland regions from November – the largest increase was Victoria at 2,290MW (37%), followed by South Australia at 565 MW (28%). Queensland maximum demand increased from November by 677 MW (7.7 %)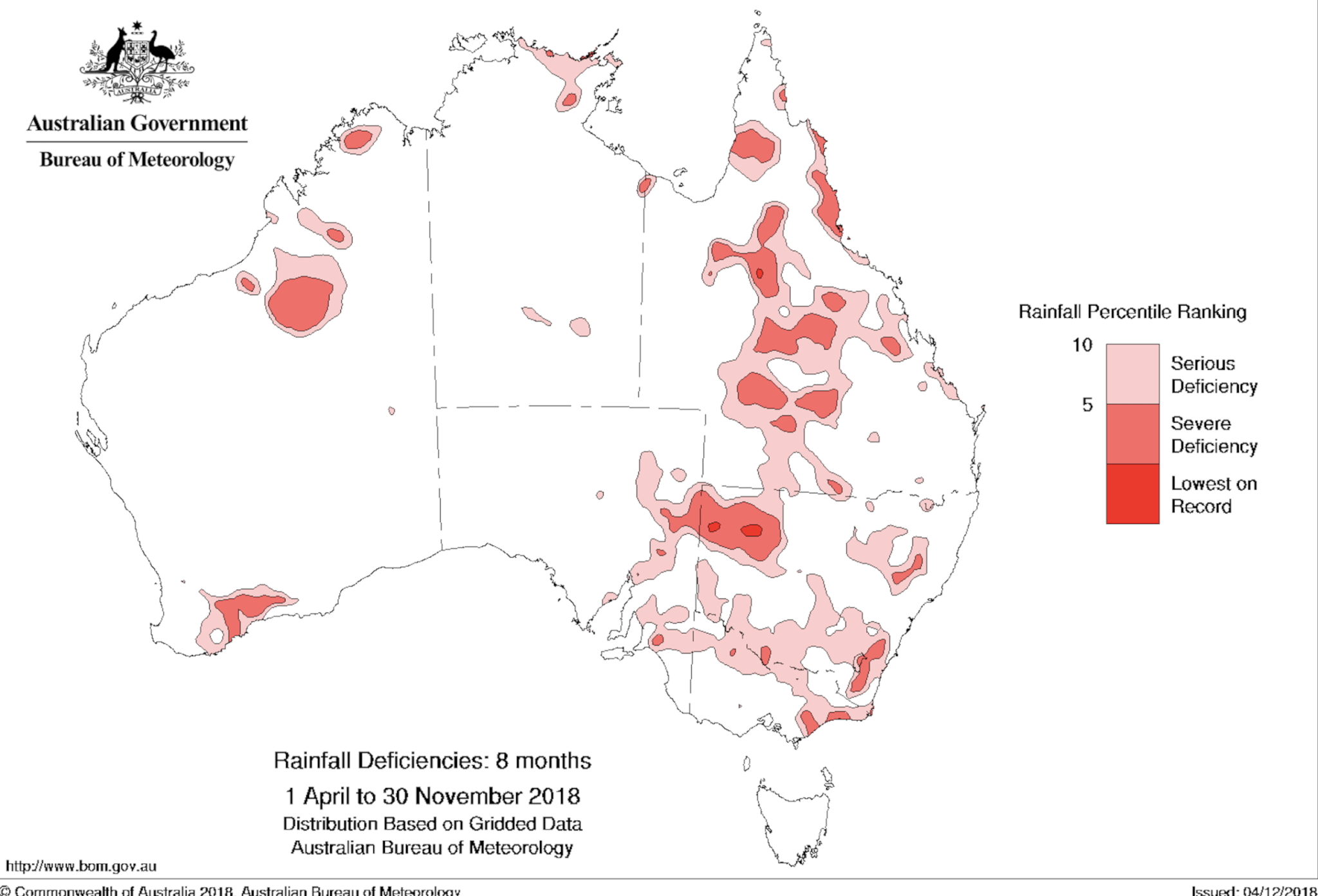 Supply side factors
Average generation availability improved in all regions in December from the previous month, the most in New South Wales where it improved by 4%from November and was the highest since August 2018.
All large coal fired Units in New South Wales returned to service by end of December. In Queensland the Swanbank E gas fired generator returned to service, however the Darling Downs was out of service.
South Australia average availability also increased by 8.5% with higher intermittent generation availability.
Victoria average availability improved by 5% after the return of Units at Loy Yang A and B that were out of service in late November.
Output from Snowy Hydro increased from 110 GWh in November to 164 GWh in December
Increased generation in December coincided with higher demand periods of the month where higher prices were evident
Interconnector flows between regions tended to flow from Queensland and Tasmania to New South Wales and Victoria. Flows between Victoria and New South Wales on average were only just in favour of flowing towards New South Wales by 83 MW, while flows between Victoria and South Australia only just in favour of flowing towards South Australia by 28 MW. As a result, prices were kept fairly aligned across the NEM.
Average renewable generation increased by 90 MW 5% from November. Since December 2017 renewable sources have increased by 74%. This is mainly attributed to the increased output from large-scale solar farms in Queensland.
January Spot Price Outlook
Most major units across the NEM that have been on outage over recent months have now returned to service improving the level of available generating capacity in all regions. In Queensland, only two Tarong units (2 x 350MW) and one Gladstone unit (280MW) remain, while in Victoria, only one Yallourn unit remains out of service.
Increases in solar and wind generation, particularly in New South Wales and Queensland, combined with higher levels of available generating capacity at major thermal power stations has improved the supply outlook.
Hydro and gas-fired peaking capacity is likely to contain prices below $300/MWh across all regions, though unit trips, inter-connector constraints or generator bidding behaviour could result in brief high price during high maximum demand periods.
On the other hand, water storage levels at Snowy Hydro are currently low, sitting at 27%. This will restrict generation to periods of peak demand and increase reliance on coal and gas-fired generation outside of these periods.
Currently, black coal generators, alongside gas and hydro-peaking plants are predominantly setting prices in the NEM. Underlying spot prices have been set by black coal generators at around $60/MWh, while gas and hydro generators have priced capacity in the $90-$120/MWh range.
The reliability (and availability) of large coal-fired units in NSW and Victoria will also continue influence spot price outcomes, and any unplanned outages may lead to higher spot price levels.
While commercial and industrial demand is generally lower in the first half of January due to the holiday shutdown, by the middle of the month these loads will return to normal. This can increase the risk of spot price spikes.
Spot price outcomes over January will continue to be impacted by temperature outcomes and the availability of thermal generating capacity. While Victoria and South Australia will remain the most exposed to the risk of higher spot prices, we expect their daily average prices to sit in the $90-$130/MWh range. Improved supply of available generating capacity, alongside AEMO's RERT measures are expected to reduce the likelihood of extended high price events.
Moving north, New South Wales and Queensland spot prices will sit slightly lower at the $80-$120/MWh range.