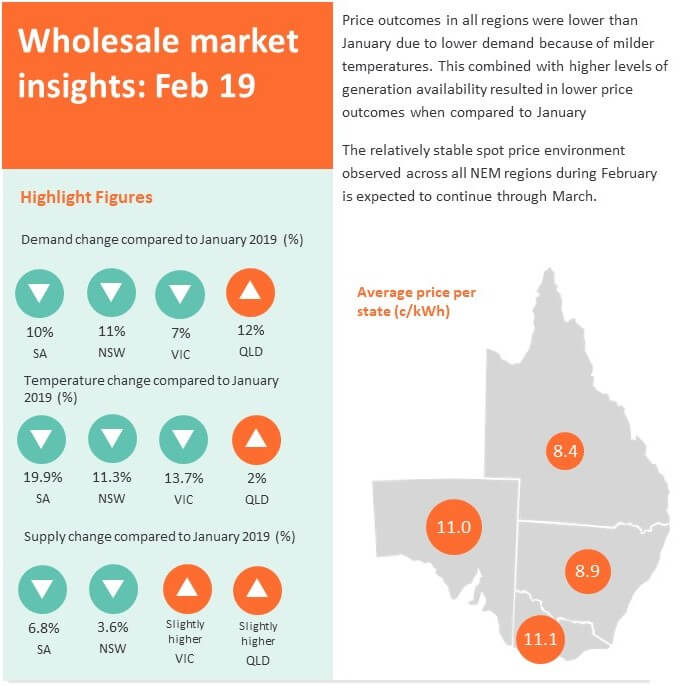 Supply side factors
The decrease in New South Wales can be attributed to outages at Eraring and Liddell Power Stations while the decrease in South Australia can be attributed to lower availability of gas fired stations, namely Torrens Island. In Victoria there were still several forced unit outages during the month at Loy Yang A, Loy Yang B and Yallourn power stations. In Queensland, Callide C4 was out of service most of the month, but overall availability in the region was high with few forced outages.
Output from Snowy Hydro decreased from 242 GWh in January to 147 GWh in February; a drop of 40%. It is noted that generation during the months of October to February is lower than the winter months as in previous years, but February 2019 generation of 147 GWh is significantly lower than February 2018 which was 309 GWh.
Storage levels are still low with Lake Eucumbene at 25.9% on the 28 February; a decrease of 0.7% from the end of January. The level at the end of February 2018 was 42.1%.
Interconnector flows between regions were on average across the month neutral between South Australia and Victoria, and Victoria and New South Wales. Flows between Tasmania and Victoria averaged 210 MW south into Tasmania while flows from Queensland to New South Wales were generally south averaging 291 MW across the month.
March 2019 Spot Price Outlook
Coal-fired generator performance continued to be a concern across NSW and Victoria in particular during February with multiple units undertaking forced outages and reducing available generating capacity in these regions. Though demand levels were not extreme during the month the lower available generating capacity provided support to underlying spot price outcomes. We expect generator availability to higher during March, with the traditional planned outage regime commencing during April. With weather extremes less influential on demand and price outcomes during March, generator performance and availability will be a factor in determining spot price levels. The BoM's latest climate outlook predicts higher than average daily maximum and minimum overnight temperatures during autumn. This is expected to have a modest impact on demand levels and in turn on price outcomes during March as temperatures are usually milder in autumn than during the summer months.
Low rainfall outcomes have persisted in southern NEM regions and has contributed to declining hydro storage reserves at Snowy Hydro and Hydro Tasmania. Snowy storages are currently at 26% and have fallen only slightly since the start of the year, despite being called on to generate regularly for peaking requirements over the summer period. Hydro Tasmania's storages are currently at 33% and are expected to decline further until May-June when winter rainfall starts to rebuild water levels. In an effort to conserve water in storage, Hydro Tasmania has reduced the output from hydro stations over recent months and increased gas-fired generation and imports from Victoria via Basslink. This operating behaviour is expected to continue during March and provide spot price support in southern regions. The BoM is predicting autumn is likely to be drier than average over Queensland, NSW, Victoria, and northern and eastern Tasmania, indicating hydro storages are unlikely to improve over coming months.
Additional renewable generation from new large scale solar and wind in the NEM continue to enter the market, though this increased supply is not leading to lower underlying spot price outcomes due to the influence of higher priced gas, hydro, and black-coal generation in setting the marginal spot price. Despite some short periods overnight where excess wind generation has led to low or even negative spot prices in Victoria and South Australia, black coal generators have generally supported underlying spot prices during overnight and off-peak periods at around $60/MWh. Gas and hydro generators have priced capacity in the $90-$120/MWh range, and up to $300/MWh during peak demand periods. Under normal market conditions we expect hydro and gas-fired peaking plants to contain prices below $300/MWh across all regions over the coming month due to lower maximum demand peaks.
In summary, spot price outcomes in March will be driven more by supply issues rather than demand given the expected milder temperature conditions across all regions. The availability of coal-fired generation, output from hydro generators, and production levels from intermittent wind and solar generation will influence spot price outcomes. Lower electricity demand during March is expected to reduce the need for more expensive hydro and gas-fired generation to be dispatched and lead to slightly lower average price outcomes to those experienced in February.
We expect Victorian and South Australian daily average prices to remain in a band between $80-$120/MWh, with NSW and Queensland spot prices slightly lower in the $70-$100/MWh range (given the higher level of reserve generating capacity in these regions). Underlying spot prices are expected to remain strong however, with gas, hydro, and black-coal generators continuing to set spot price levels and maintain a support base at around $60/MWh. Periods of high renewable generation or low demand may result in instances of low spot prices overnight, though these are unlikely to be sustained for long periods.