Temperature and demand in the NEM
While temperatures continued to increase throughout the month, October's mellow conditions were a welcome reminder that summer days are still a while away. In fact, air temperatures were 0.5 degrees cooler (2.5 % for air, and 3.2 % for apparent temperature) than the same time last year.
These mild conditions were reflected in demand across the NEM, which had no extremes despite widespread rain in mid-October over North Eastern New South Wales and South East Queensland reducing output from utility and rooftop PV solar generation.
South Australia enjoyed especially low levels of demand as it dropped to its lowest ever level – even lower than during the state's 2017 blackouts – at ~580MW over the weekend of 20 October.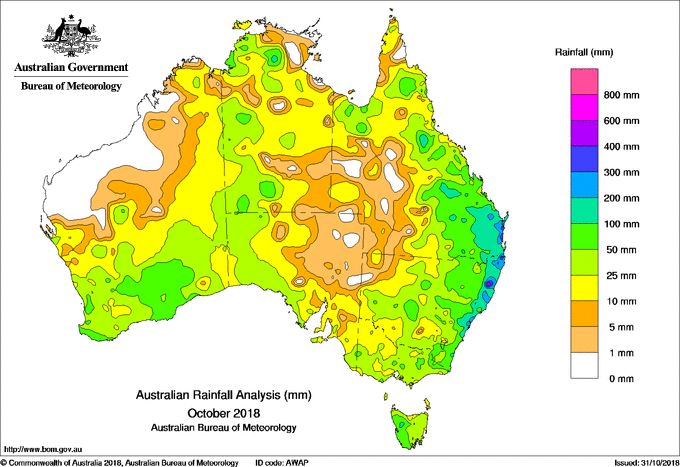 Supply side factors
Across NSW and QLD, average availability was similar to that of September's as outages continued across various large coal generators. This is normal for spring, as generators plan outages in this period of reduced demand.
For the other NEM states, availability dropped from September with Victoria and South Australia experiencing a 4% drop in availability, while Tasmania dropped by 13% due to a change in interconnector flows on Basslink.
The end of the month saw lower than usual output from South Australia and Victoria's wind generators. This was compounded by the Victoria-New South Wales interconnector flow being constrained south, which drove up energy prices, especially overnight. Additionally, it has lifted daily spot price averages for Victoria, South Australia and Tasmania with maximum prices occurring late in the evening peak or in early morning periods, counter to typical daily outcomes.
Solar generation is adding up to 5000 MW from both small rooftop PV systems (~4000MW) and large-scale installations (~1000MW), helping to lower daytime energy prices. Indeed, solar generation is on the up as capacity throughout the NEM increases, impacting market and price dynamics.
Last month we noted that generation from Snowy Hydro averaged 540 GWh per month between
April to August and in September generation dropped by more than half to 198 GWh. In October, it
again, dropped significantly to just 89 GWh. Storage levels in the Snowy region are still at low levels with continuing drought conditions.
Interconnector flows across the NEM continued to swing significantly during October, steering away
from a strong preference for New South Wales to Tasmania. This is a result of bid changes by hydro generators in Tasmania whilst planned outages are undertaken.
NEM Spot Price Outcomes
We have lower generation from the Hydro Tasmania and Snowy Hydro generators to thank for October's higher spot price outcomes. Since September, spot prices in Victoria, South Australia and Tasmania have increased well into the $90/MWh range. Tasmania has the largest increase (by 57 %) from the previous month from $60.86 to $95.37/MWh, driven by a change to bidding behaviour from generators, which saw flows on Basslink go south for most of the month. This was a major departure from the previous three months where flows were mostly north to the mainland. Queensland's average price for October was $78.34/MWh and lowest in the NEM for the month.
Across all regions, average prices for October were higher than the average prices of the preceding 12 months, showing an overall increase in NEM prices.
We don't have extreme spot price events to blame for this increase either. Instead, lower hydro generation and planned outages at major coal-fired stations in New South Wales and Victoria are to blame. These factors have reduced supply of lower priced generating capacity and increased the reliance on more expensive gas-fired capacity, driving up underlying spot prices.
| Month/ Region | QLD c/kWh | NSW c/kWh | VIC c/kWh | SA c/kWh |
| --- | --- | --- | --- | --- |
| Oct-18 | 7.8 | 8.8 | 10.0 | 9.8 |
| Sep-18 | 8.1 | 9.3 | 9.3 | 9.1 |
| Aug-18 | 8.2 | 9.3 | 7.9 | 7.2 |
November Spot Price Outlook
Plant availability at coal-fired generators in Victoria and New South Wales has been lower than
average over recent months due to planned maintenance, which is not scheduled to be completed until the end of November. This contributed to stronger than expected spot prices in the NEM this month and will keep spot prices up as we enter November.
Hydro output at Snowy Hydro and Hydro Tasmania has reduced dramatically in recent months in
response to lower rainfall and storage inflows and an attempt to conserve water storages ahead of
summer. This is expected to continue during November and will also contribute to higher underlying spot price averages.
In recent months, low wind generation in South Australia and Victoria have led to higher spot prices, as more expensive gas-fired generation has stepped in to meet demand. It's likely that this risk will remain in November while coal-fire outages and water storage conservation at hydro plants continue.
Sydney and Melbourne will get their first taste of summer on November 1 as temperatures break the 30-degree barrier. As conditions heat up and the risk of extreme temperatures rise, high demand periods will become a reality. Although the level of gas and hydro peaking capacity is expected to contain the potential for extreme spot price outcomes, Victoria and South Australia can expect elevated prices in the $80-$120/MWh range.