Temperature and Demand across the NEM
Australians breathed a collective sigh of relief and turned down their heaters as September brought its typically warmer weather conditions. The seasonal shift saw energy demand decrease from August. For most states the increase in apparent temperatures was about one degree higher than actual temperatures. Brisbane and Sydney enjoyed apparent temperatures of up to three degrees warmer, while Hobart and Melbourne followed closely with two degrees warmer than August. Adelaide saw temperatures increase by just one degree. In regional areas such as Rockhampton and Dubbo temperatures were as much as four degrees warmer.
Rainfall, as shown below, continued to be well below average, impacting hydro storages and irrigation requirements.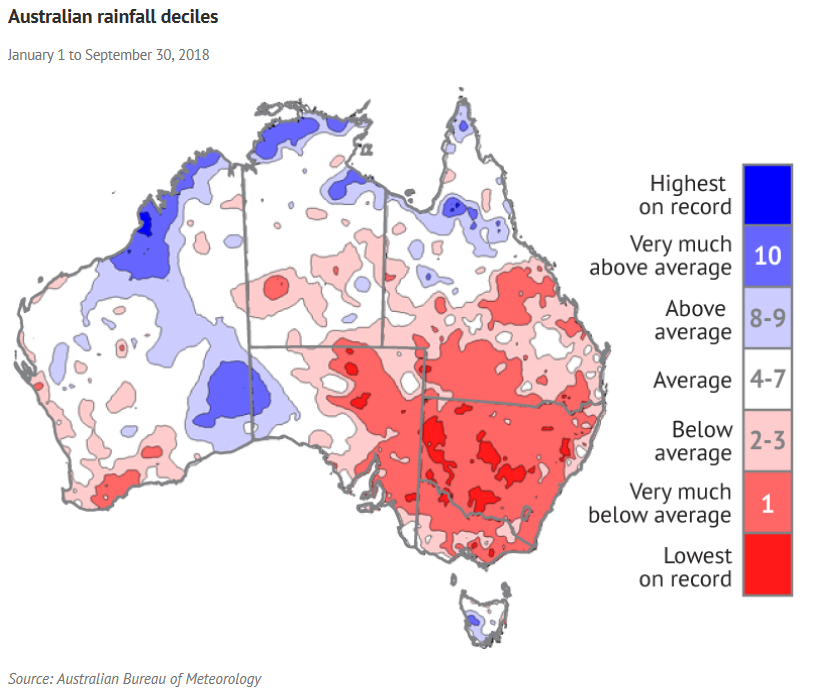 Average energy demand was lower by up to 8% in most regions (a reduction of between 95 MW in Tasmania and up to 640 MW in New South Wales) compared to August. Demand in Queensland was 2% lower throughout the month. Maximum demand in September was down about 2% in most regions, except Victoria which was lower by 6% compared to August.
Supply side factors
Across all regions, the availability of generation was lower in September compared to August. New South Wales's generator availability was especially slow, continuing into September due to unit outages at black coal fired stations. While August's outages were largely unplanned, nearly half of all of September's outages were planned, which is not unusual for this time of year.
In Victoria, thermal generation availability was lower by 7% (613MW) compared to August, due to brown coal generator outages. Similarly, Tasmanian availability was lower by 6.6% (158MW) when compared to the previous month in line with reduced hydro generation, but the state's exports were higher as increased run-of-river flows saw it export a significant amount of energy to Victoria.
South Australia saw available generation plummeted by 17% (485MW) when compared to August, however, wind generation increased. While South Australia's interconnector was largely unconstrained, the reduction in generator availability did not unduly affect prices. In fact, average energy prices in South Australia were either on par or slightly lower than Victoria's for the month.
From April through to August, generation from the Snowy region averaged over 540 GWh per month. However, in September there was a notable reduction to 198 GWh, most likely linked to reduced irrigation flow requirements. Generation feeding into both NSW and Victoria from Snowy generators reduced by 60% in September from last month. Storage levels in the Snowy region are low, with Lake Eucumbene recording 21.1 % at the end of September, which had increased from a low of 18.6 % at the beginning of the month. The drought has taken its toll, with the storage in Lake Eucumbene for the same time last year at 38.8 %.
Interconnector flows across the NEM were directed towards NSW and Victoria due to thermal station outages. Flows from Queensland were consistent throughout the month, averaging 640 MW south, while the Victoria to NSW interconnector was mostly directed north at the start of the month before tending south into Victoria. Much like July and August, there were strong flows into Victoria from Tasmania due to the high generation levels from Hydro generators in that region. However, a transmission outage in Tasmania at the end of the month resulted in reduced flows north and high price outcomes in Tasmania. Flows between Victoria and SA averaged out evenly across the month, with no strong patterns in flow in either direction.
NEM Spot Price Outcomes
Most regions have seen increased prices between August and September.
SA had the next largest increase in price from the month before, from $72 MWh to $92 MWh. Given that the average in prices for SA for the preceding 12 months was $95/MWh, September's average is not alarming, as August's average price was lower than usual.
Victoria's price for September rising from $79MWh to $93MWh was 18% higher than August. This is due to the brown coal generating unit outages, and the reduced output from the Snowy generators.
NSW's price for September was 3% higher than August, even with reduced generation from Snowy and the outages at the coal fired generators. However, lower generation was also matched by reduced demand and an unconstrained interconnector from Queensland.
Queensland (13%), NSW (19%) and Victoria (8%) all recorded higher prices for September than the average of the preceding 12 months, while Tasmania and SA remained lower (3% and 24% respectively). These longer-term trends are important to keep in mind when monitoring the future contract market.
| Month/Region | QLD | NSW | VIC | SA |
| --- | --- | --- | --- | --- |
| Sep-2018 | 8.0 | 9.3 | 9.2 | 9.0 |
| Aug-2018 | 8.2 | 9.3 | 7.9 | 7.2 |
| Jul-2018 | 6.9 | 7.5 | 7.0 | 10.6 |
Units: c/kWh