Last summer will be remembered for its record-breaking temperatures and higher spot prices in the National Energy Market (NEM). Price increases also occurred particularly in VIC and SA, see the January market wrap. However, despite these events being quite rare in the market Flow Power customers were protected.
Customers on Flow Power's Power Up plan, have what we call a Ceiling. It sets a limit on your price and is a surefire way to access the lows of the wholesale market without sacrificing the certainty of knowing you'll never pay more than your Ceiling price.
How it works
The Ceiling is set every quarter and is calculated at 120% of the market fixed rate, it protects you from any major fluctuations by setting a peak price.
When average price exceeds the Ceiling as it did in January 2019, we look at how your business compares to the market and adjust the price based on your Price Efficiency Factor, which is calculated by comparing your average spend with the market average. This means the Ceiling is customisable to how your business uses power.
The outcome for customers
Power Up customers were protected by the Ceiling in January and paid 53% and 37% less than average peak January spot prices in VIC and SA respectively.
The Ceiling provides protection to businesses based on the average price across the quarter, providing protection to sustained high prices rather than individual price spikes.
This was of particular benefit to customers as the Cumulative Price Threshold (CPT) was triggered in January by the market operator.
The charts below show how the Ceiling protecting customers in Victoria and South Australia.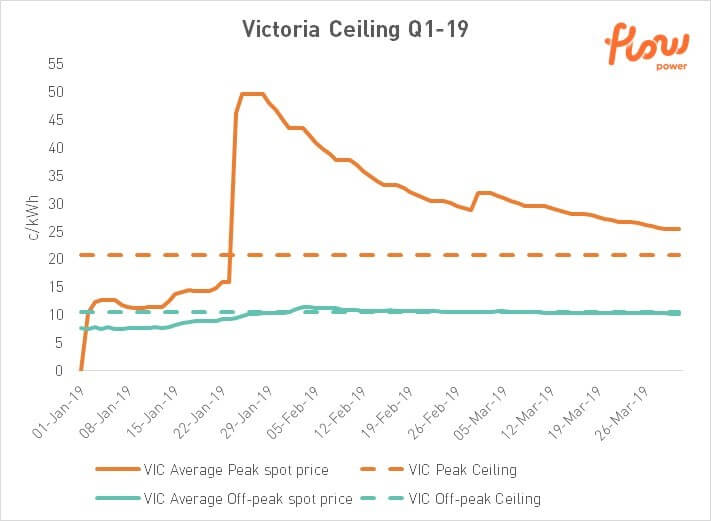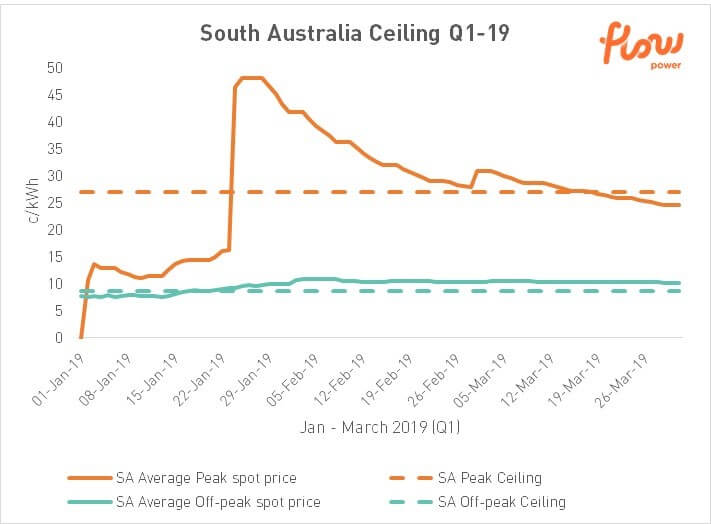 February saw calmer market conditions and, despite some short-lived high prices on March 1, average peak prices decreased.
Calmer market conditions followed into February and despite some short-lived high pricing on March 1, the peak average prices decreased.
By the end of the quarter, the Victorian peak Ceiling and the South Australian off-peak Ceiling provided protection to Flow Power customers. As a result, customers avoided paying an additional 4.7c/kWh in Victoria and 1.5c/kWh in South Australia, easily offsetting the Ceiling access fee (0.6c/kWh Peak and 0.4c/kWh Off-peak) and saving Power Up customers approximately $500k.
Get even more value
Customers using Flow Power's demand response Market Monitoring services would have been able to further reduce their overall price for the quarter by improving their Price Efficiency Factor. For example, a SA customer that was on market monitoring was able to lower their PEF in January by 26% – delivering a better price outcome.
While wholesale spot prices typically increase in summer, they largely decrease in winter. Historically average spot prices over a period of 12 months outperform fixed rates.