Wholesale electricity explained
Wholesale electricity is the raw material of the energy world. It's electricity prices as they are – without the 'nasties' such as broker fees, predicted volatility and hidden retail markups.
It's the raw market price that generators are selling their power for based on the supply and demand every 30 minutes.
Electricity prices vary every half hour, your business could be a lot better off by going 'direct to the source'.
Let's look at a typical manufacturer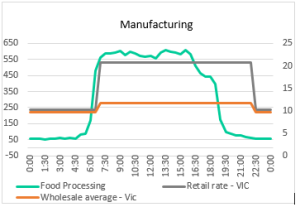 If you look at the green line, you can see that this business uses most of its power in the peak periods of the day.
Look at how much less this manufacturer would pay by purchasing from the wholesale market (orange line) compared to a typical fixed rate contract (grey line) – in just one day!
You can compare the average wholesale rate for different states.
Renewables in your favour
Wind and solar power are at their strongest during the day, the same time manufacturers are using electricity the most.
A business could reduce their electricity costs by entering into a wind or solar agreement also known as a renewable virtual generation agreement.
This does not require installation of anything on your site, it is a direct contract with a renewable plant.
 A healthier bottom line is finally in reach
All electricity comes from the wholesale market. The difference is how much you ultimately pay for it.
You already buy many of your business inputs at wholesale prices. Now you can buy wholesale power.
Talk to Nick to find out what you could save on the wholesale market.
Talk to an expert