The energy market is changing. We've seen a shift in average energy prices over the past few years and this financial year will follow a similar trend.
Firstly, how are prices today? Last financial year average spot prices for the last financial year:
hit an all-time high in Victoria and New South Wales for the second year running
recorded the second highest ever for South Australia
were the third highest on record for Queensland.
This financial year prices are expected to remain at higher averages so let's look at what's causing the price rises.
Where are these prices coming from and what can you do about it?
Volatility vs overall increases
We can break it down into two parts.
Volatility is when the market price goes above the 30c/kWh cap price. Typically, it's when the market is signaling a short-term imbalance between supply and demand. Either more supply is needed, or demand needs to drop. Looking forward, we can use the tradable cap price as a proxy for volatility the market is predicting. Looking backward, we separate prices below and above the cap price of 30c/kWh to measure historic volatility.
Underlying increases in price are driven by long term supply and demand drivers, like economic activity and supply mix.
The final energy price is a combination of the volatility and the underlying, and you can see the results from last year in the graph below.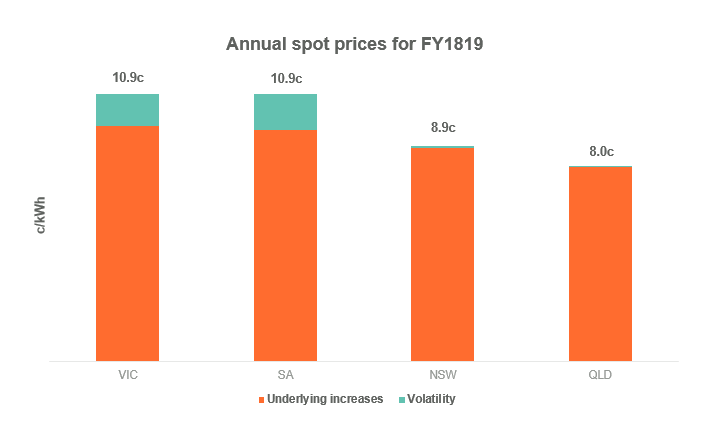 In Victoria, volatility contributed around 12% of the annual average price. Last year was the most volatile year on record but even without volatility the underlying prices were higher than ever.
For South Australia volatility contributed 13% to the annual average price. This is by no means the highest on record but it's still worth looking at because like Victoria, beneath the peaks, we saw record average underlying spot prices.
Compared to their southern counterparts, the northern NEM regions saw less volatility. In New South Wales and Queensland, volatility contributed to under 1% of annual average prices – some of the lowest years on record. But that's not to say the underlying prices were also low.
If we look at the underlying average prices in New South Wales and Queensland, we can see that these states hit record highs too.
The upside of a higher market
Higher prices with volatility open new opportunities to unlock value. There's no better time to look at how and when your business uses power to maximise value.
Especially if your business is in South Australia or Victoria, demand response can help counter volatility in pricing. Simply having the flexibility to power down part of your operations for a short period can help reduce energy spend.