The price of electricity is always changing so it's important to obtain a realistic rate for the period of your contract. Businesses renewing contracts now, need to be checking they are getting the best deal because of the currently high market prices.
Why go 'fixed' when you can get 'flexible'?
There's no denying that fixed contract prices are on the rise.
But high prices are not the only downside of fixed rate contracts. They're also inflexible – rarely meeting the variable needs of the agriculture and farming industry.
Because farming is seasonal, certain periods of the year are naturally more important for business than others. So, if your electricity plan doesn't have flex, how can you possibly operate efficiently?
Does this graph reflect your business?
The graph below looks at the power use of a Victorian chicken farmer over the course of a single day.
It also compares a current wholesale average price with current retail rates. You can see our latest wholesale price comparison on our website.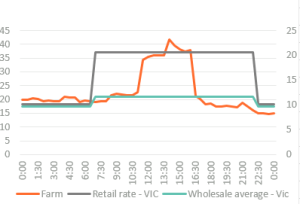 The peak usage of this farm is during peak times (the orange line) but there are times during the peak rate period that they are not using much power at all. Fixed rates in this case (the grey line) do not suit this farmer's usage because they are paying more for his electricity than he needs to.
Retail rates are high at peak times to account for those few times you might use a lot of power. Such as when the usage (orange line) goes above the retail rate (gray line).
Because this farmer took on a wholesale plan from Flow Power, they're achieving more control and significant savings. The wholesale average (green line) works out better for this farmer in the long run.
Flow Power have many agricultural customers happy with their results, one South Australian Farmer said,
'We've been with Flow Power since 2010 and we are very much in front with our electricity costs. As growers of almonds and grapes in the volatile SA market, we find it especially beneficial and simple to add a cap over the hot periods to keep costs under control.
Access to wholesale rates when they are low
Certainty of pricing as we smooth costs over the quarter
Peace of mind with a roof over your price.