March 2022 energy market insights
In March, the spot price divide between New South Wales/Queensland and South Australia/Victoria continued, with average prices in the north almost doubling those in the south.
Average underlying spot prices have increased in all regions when compared to 12 months ago, with the largest increase in New South Wales (which had an average spot price increase of almost $20/MWh). Demand profiles across the National Electricity Market (NEM) were similar to those in March 2021, with slightly higher evening peak demands in some regions.
High temperatures in Queensland on the 8th of March (with a daily maximum of 35 degrees Celsius) along with interconnector constraints resulted in high Queensland spot prices (peaking at $15,100/MWh) for almost 3 hours. A fire at the Yallourn Power Station on the 30th of March resulted in a brief increase in spot prices during the morning peak, though prices remained below $300/MWh, and the subsequent outage did not appear to impact Victorian spot prices in the short term.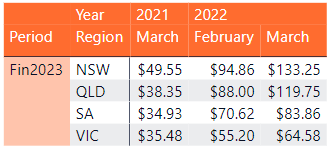 The trend of increasing forward prices for FY 2023 has continued, with prices in New South Wales and Queensland exceeding $100/MWh:
New South Wales is up 169% from a year ago, and 40% from February 2022
Queensland is up 212% from a year ago, and 36% from February 2022
South Australia is up 140% from a year ago, and 19% from February 2022
Victoria is up 82% from a year ago, and 17% from February 2022
NEM-wide, the total hours of negative prices in March have more than doubled when compared to 2021 (with most negative hours in South Australia and Victoria). There were 4 hours of spot prices above $1000/MWh, with almost all of it in Queensland.
March 2022 NEM insights – by state
Click on our dynamic graph below to view the figures for your state:
To navigate to a particular past month, select page 2 on the bottom of the graph, and then use the drop down menu to make a selection.
New South Wales March 2022
Average spot price of $100.68/MWh
The region had a price spike on the 8th of March, which was likely caused by the large increase in demand in Queensland, along with the NSW/VIC interconnector being heavily constrained (in some intervals, to 0 MW)
Similar demand curve to March 2021
Lowest daily average in March 2022 higher than highest daily average in March 2021
Queensland March 2022
Average spot price of $147.20/MWh, due to several exceptionally high price intervals on the 8th of March. Excluding these prices, the average underlying spot price was $102.90/MWh
Similar demand, availability, and semi/non-scheduled generation profiles to January and February 2022, which is reflected in similar underlying spot prices
Despite rooftop solar generation increasing year on year, there does not appear to be a change in the scheduled demand curve, indicating that general usage might be increasing during times when solar is being generated
South Australia March 2022
Average spot price of $67.00/MWh, with 128 hours of negative prices
A small number of price spikes in the region generally corresponding to the time of day when solar generators ramp down, and on days with lower wind generation
Victoria March 2022
Average spot price of $54.78/MWh, with spot prices staying below $300/MWh for the entire month
Around 111 hours of negative prices
Higher average evening peak demand, but also higher average semi-scheduled/non-scheduled generation
Despite an increase in rooftop solar generation, there was no decrease in middle-of-the-day demand, indicating a functional increase in energy usage during this time in the region
Rise in forward contract pricing
A rise in 12-month forward contract pricing has been observed across all states in the NEM. There are a number of factors that this could be attributed to.
A ban on thermal coal from Russia by some European countries has sharply increased demand from other sources, including Australia. This is pushing up coal prices globally.
Increased coal prices appear to increase the marginal costs of some of the coal-fired generators in New South Wales and Queensland, flowing through to increased bids from these generators and greater reliance of gas.
The market is expecting these elevated prices to continue in future years, driven by coal and gas prices, and retirements of coal generators including Liddel Power Station and Eraring Power Station.
These market conditions highlight some of the challenges of relying on generation like coal and gas that is heavily exposed to global tensions, and the benefits of continuing the transition to renewable sources of electricity.
April 2022's energy market forecast
March was a fairly quiet month in terms of price volatility, despite increased underlying spot prices in all regions.
During April however, the Bureau of Meteorology predicts higher daily minimums across the NEM throughout the month, and higher daily maximums for most of the NEM. This would likely result in lower winter demand due to lower heating requirements. There is higher than average rainfall predicted across all regions, which may affect both grid-scale and rooftop solar output.
April will see the start of the long awaited Liddell generator closure, with the first of the four 500MW units retiring on April 1, with the remainder retiring over the next 12 months.
The month is already looking to be very volatile across the entire NEM. If you would like to discuss how April volatility might impact you, please reach out to arrange a meeting with a corporate energy specialist.
Any questions? Our energy specialists are here to help.
If you're an existing Flow Power customer, please do not hesitate to reach out to your account manager.
If you're not a Flow Power customer, feel free to contact our friendly team:
📞 1300 08 06 08
Alternatively, you can submit your questions through our website contact form here.