Get involved in NSW's demand response program this summer with the kWatch® Intelligent Controller. AEMO has predicted that peak demand may outstrip supply this summer. We've cracked the answer. Our Controller means you can get paid to power down.
Demand Response
The power market is changing. More of us are using power at the same time, meaning that peak demand is on the up.

The Government could build more power stations but the simplest solution is to use power smarter.

This is where businesses come in. If you can power down in places when the market needs you to, you can be financially rewarded by participating in demand response programs.

Demand response does work if you are on the spot market, with activation events most likely to coincide with high spot prices up to $14,000/MWh
Get on with the job
We know you have a business to run. That's why we invented the kWatch® Intelligent Controller.

Installed on your site, the Controller gives you more insight into your business, alerts when you need them and the opportunity to make thousands of dollars a year in demand response payments.

The Controller integrates your energy intensive equipment so you can respond within minutes to market signals however at the end of the day you have the last say on whether you will participate on an activation event.

It is important to note that demand response events are only triggered as a last resort and can help avoid involuntary load shedding. These events are rare with a number of factors contributing to the cause of an event. These could include, extremely hot days, under forecasted temperatures, outages of generators and a reduction of renewable generation.
Install the Controller and

get paid to power down this summer.

Over the next three years in NSW, the Australian Renewable Energy Agency (ARENA) and the NSW Government are funding greater business involvement in demand response.

As a part of this initiative, Flow Power will partner with commercial and industrial businesses in NSW. The installation of the kWatch® Intelligent Controller will allow these businesses to reduce demand in just minutes. They will receive participation payments throughout the year in addition to a revenue stream if they are called upon to power down.

For business, that means a new revenue stream over summer.
The kWatch® Intelligent Controller
gives you transparency and control

over your electricity use through live data feeds, alerts and automation.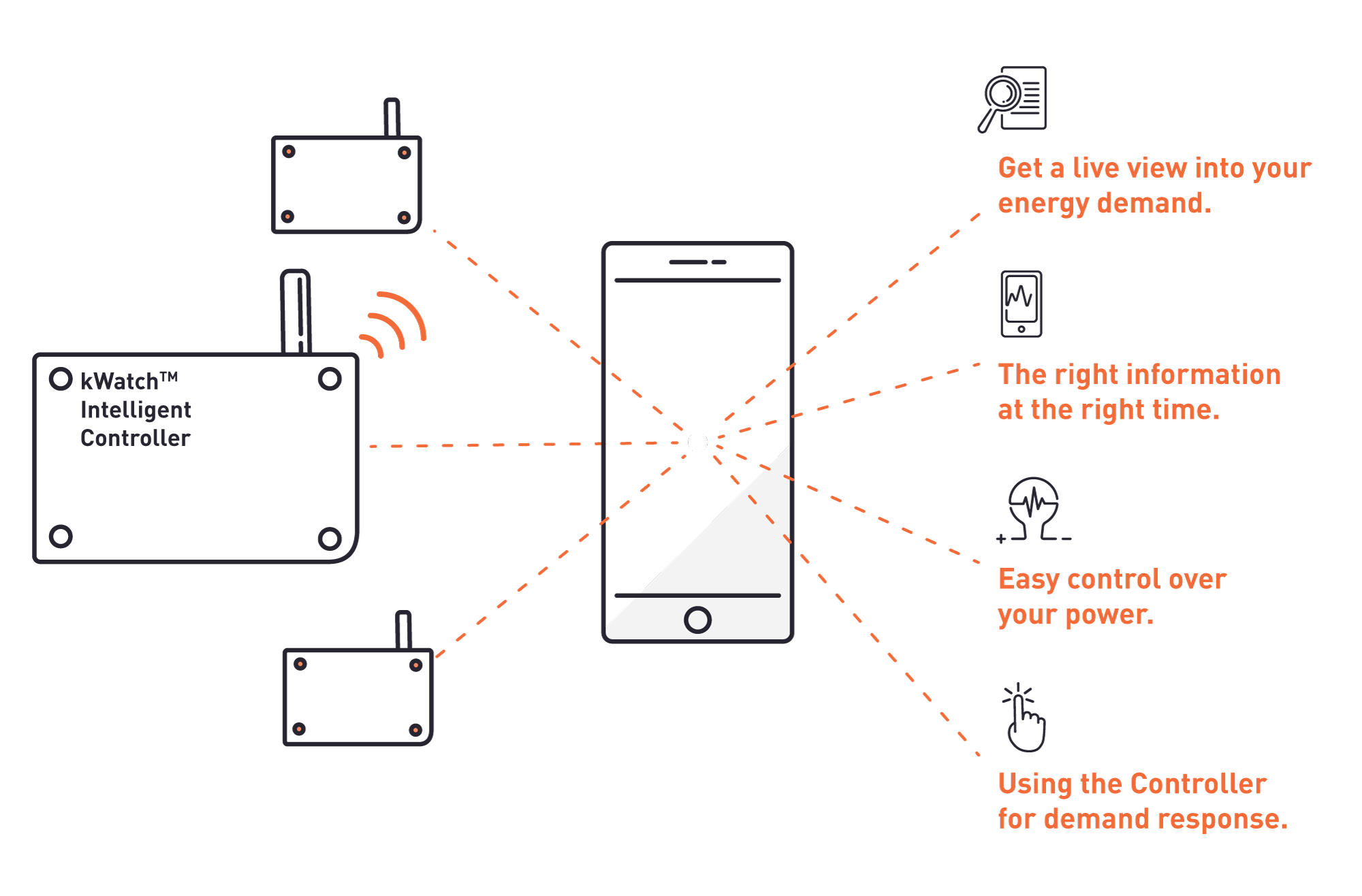 One system to rule them all
If you have a complex operation or multiple sites, it can be hard to monitor use consistently. The kWatch® Intelligent Controller helps you watch over all demand remotely and easily get involved in demand response programs. Prior notifications are likely to be available hours or days in advance.
Take control
Get a live view into your energy demand.
A live data feed allows you to watch and manage your demand.
The right information at the right time.
You don't need to sit by day and night waiting for change. We'll text or email you an alert if there's something you need to know about.
Easy control over your power.
You can run your business while the Controller manages your power. It'll power down equipment or transfer to a generator with your approval.
Use the Controller for demand response.
By having a view into your power demand, alerts when you need them and the ability to power down quickly, the Controller means you can safely and cost-effectively get involved in demand response programs.
Getting set up for summer is as easy as the system itself.
Step #1: A quick chat
Have a kWatch® assessment with a power expert over the phone to confirm it suits your business.
Step #2: Put your name to paper
Review and sign an agreement with Flow Power and confirm your sites.
Step #3: Installation and testing
You can use your installers to install and configure the system with the guidance on our experts.
Step #4: Activate the controller
On December 1 you're live – it's as easy as that.