What is PEA?
Every business is different. So, it makes sense that your energy price is unique to how and when you use electricity.
Price Efficiency Adjustment (PEA) is a simple concept based on the fact that energy prices peak based on supply and demand, which are constantly changing. That's why we use our PEA to set a rate that reflects how your business actually uses power.
How is your PEA calculated?
We calculate your PEA by subtracting your load weighted average rate from the time weighted average rate. Your load weighted price is the average price of your business's energy usage, while the time weighted price is the average spot market price.
The PEA is displayed as a c/kWh figure, which is then added to your final billed base price plus our transparent retail margin at the end of each month. The lower your PEA, the better your outcome.
But this isn't a new idea. In fact, behind every energy retailers' offer lies a similar calculation that they use to set the prices that they pass on as fixed-rate contracts. But they don't put a name on it, give you visibility into that equation or the ability to change it.
Price Efficiency Adjustment = Customer's load weight average rate – Time weighted average market rate
How can you improve your PEA?
Lowering your PEA is as simple as maximising your energy usage in low demand period (typically during the middle of the day) and avoiding the peak periods as much as possible (mornings and evenings).
Let's look at how you can better understand the make-up of your energy usage and reduce your costs with some changes to your operations.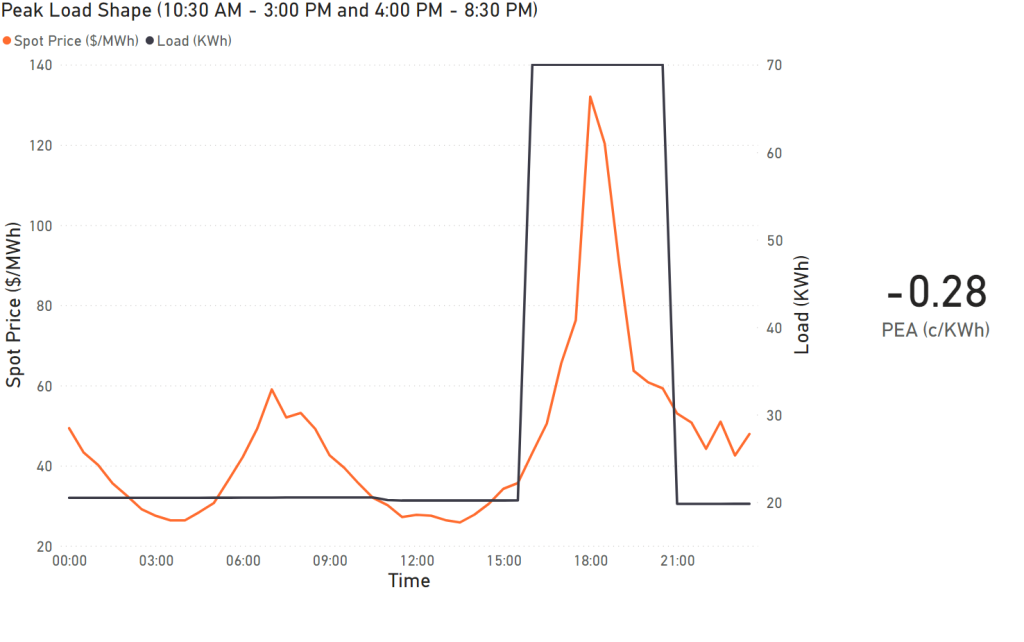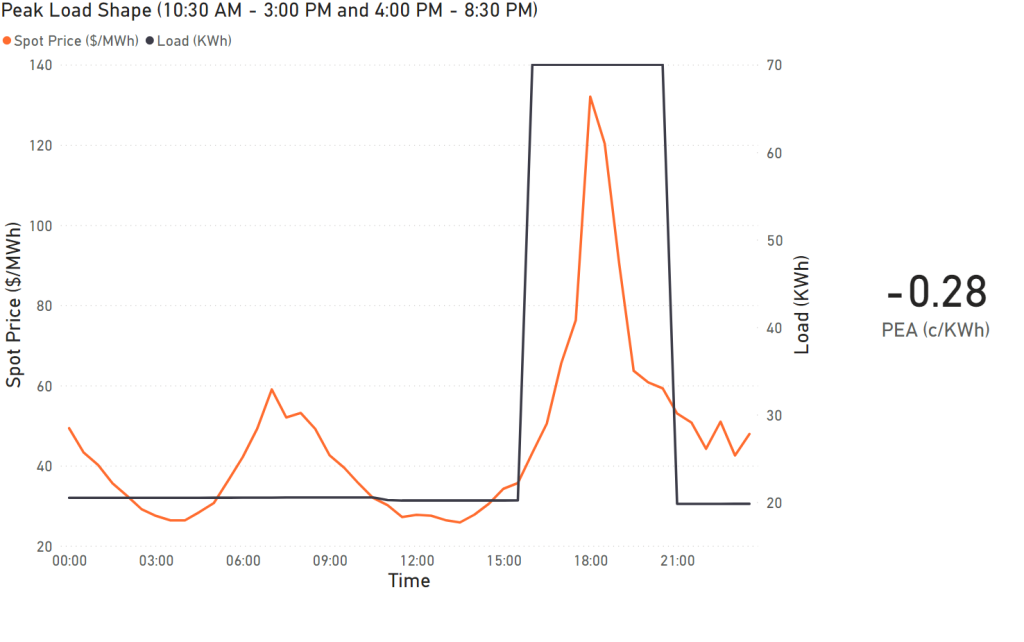 These graphs show how a business can improve their PEA by changing when they use electricity. Put simply, the PEA can reward you for using power more efficiently than the market average.
What kind of businesses can take advantage of PEA?
Businesses that are more price efficient than the market have lower PEAs, because they use power when the price is low and not at peak times. Whereas a business that undertakes the bulk of its operations at peak demand times, such as 9am or 5pm, will have a higher PEA.
But this is good news for a business with a high PEA as there are simple measures that can be taken to improve their PEA that can also help to reduce energy costs. This means that businesses can take back control over electricity costs and uncover energy efficiencies in the process.
But there is always room for improvement, investment and smarter technology for businesses to better manage their energy prices. Businesses that learn to take advantage of the lows of the market and shift load to these times can improve their PEA.
The bottom line is that PEA could be a good fit for almost any business. You can talk to us today to calculate what's your PEA and what are your options to improve it.
You can also upload your bill here and we'll be in touch with your PEA.
Any questions? Our energy specialists are here to help.
If you're an existing Flow Power customer, please do not hesitate to reach out to your account manager.
If you're not a Flow Power customer, feel free to contact our friendly team:
📞 1300 08 06 08
Alternatively, you can submit your questions through our website contact form here.