Electricity in Australia is bought and sold on the wholesale market or the National Electricity Market. The market price changes based on supply and demand in each state – but stay low most of the time. Sometimes electricity is also bought through hedging contracts or direct agreements with generators.
While most retailers charge fixed rates, Flow Power gives you the upper hand with direct access to the wholesale electricity market. Often customers ask us to compare wholesale electricity prices to fixed rate offers they have received from brokers or retailers. Looking into the future, it's like comparing apples and oranges because buying wholesale let's you access all the low points of the market. However, we can see what businesses could have saved.
Here's the detail
Below is a graph that compares the average energy costs across the National Electricity Market over the last five years. The fixed rates are sourced from the ASX Energy Futures, which is normally representative of fixed rate contracts. The wholesale prices come from AEMO's market rates. But remember, these power prices don't include the retailer's mark up.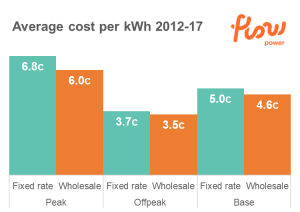 By why does that happen?
Fixed electricity rates are forecasted numbers. Your retailer is predicting what will happen in the market whether they are buying direct from the market, hedging or signing agreements with large power plants. As we all know, forecasts are normally more conservative than reality.