Taking the guesswork out of timing a great energy contract price
Knowing when to begin looking for a new energy contract and then timing when to sign can be difficult. This can be especially true if your business' current contract is ending and you need to quickly get the best new energy price possible.
As energy prices are constantly changing, contracting at the wrong time could mean missing out on a better price in the future. Or worse, holding off on contracting could mean you pay a higher contract price in the future.
This is why Flow Power developed the "Active Option" contract feature.
Watch our handy explainer video here:
What is the Active Option?
The Active Option is a Power Active contract feature – unique to Flow Power.
Put simply: the Active Option lets you move to a lower contract rate if market rates fall.
The Active Option takes the guesswork out of timing the market and knowing when to enter into an energy contract. This means you don't have to consider short term contracting if the market is high – your business can still enjoy a competitive advantage and an improved price in the future with the Active Offer.
How does the Active Option work?
To provide the Active Option, a dedicated team at Flow Power carefully monitors the ASX Energy futures market.
If the market rates for your contract period fall, we'll automatically move you to the lower rate. That means, regardless of when you contract, you won't miss out on a better price in the future if the market changes.
If market rates increase, you'll simply pay the rates that you set at the beginning of your contract.
How much does the Active Option cost?
A small access-fee of approximately 0.4 to 0.8c/kWh is charged to your rate in the year the Active Option is applied. Most businesses find this is a small price to pay to access the potentially large savings if the energy market changes in the future.
When does the Active Option apply?
Generally, the Active Option applies to the beginning of the second and third year of your contract – if you're on a three-year Power Active plan. This can be either financial or calendar year, depending on when your contract begins.
If you're on a two-and-a-half-year plan, it will apply to the beginning of each year in your agreement.
Contracting at the "best" time – blink and you'll miss it!
Here's some real data to show you how the energy market moves and how the Active Option can help you get the best energy price outcomes. Take a look at the below chart showing the Australian Power Index Eastern (APIE) from January 2020 until December 2021.
You'll notice in December 2021:
Prices were elevated compared to the previous 2 years
Prices were at $70/MWh
The 2-year high was around $82/MWh (12% off the 2 year high)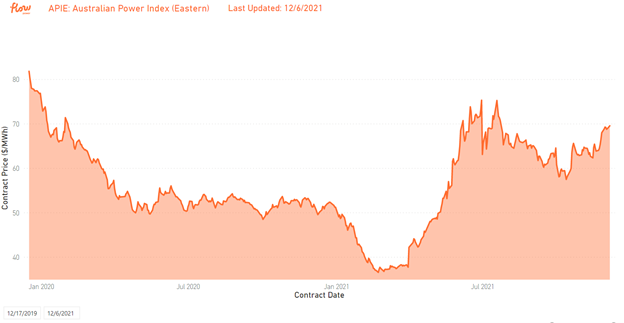 But, if you look below at the five-year chart, prices were still 42% below the five-year high.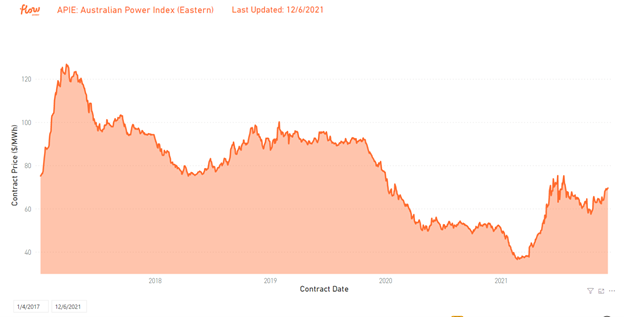 As shown in the graphs, the energy market can be extremely volatile and often unpredictable.
With so many different influencing factors, no one can be certain if the market will ever reduce back to COVID levels or rise back up to pre-COVID levels.
So, what can you do? Keep your options open with Flow Power's Active Option feature.
Does your current energy provider offer a feature like the Active Option?
Check with your provider for a contract feature that allows you to lock in a base energy rate and allows you to take on a future market fall should the market drop within your contract period.
If yes, make sure to check how much it costs your business.
If your current energy provider doesn't have an Active Option feature, speak to the Flow Power team today.
We'll analyse your most recent energy bill and provide you with insights and a no-obligation check to see if you're eligible for the Active Option.
Case study: a Flow Power customer's Active Option success story
At Flow Power, we're committed to electricity contract price transparency and real product proof. So don't just take our word for it, here's a case study on how one of our customers saved with the Active Option on a Power Active energy plan.
Get greater flexibility and insight into the prices you pay with the Active Option
Talk to a Flow Power business energy specialist about how the Active Option could work for your business.
1300 08 06 08
go@flowpower.com.au