Compared to June 2022, July has been relatively uneventful. While there has been little price volatility (primarily in South Australia and Queensland), continued high prices for coal and gas have resulted in similarly high average wholesale electricity prices across the National Electricity Market (NEM).
Cumulative Price Threshold (CPT) breach avoided
Earlier in the month, Queensland's 7-day rolling sum of prices came very close to the Cumulative Price Threshold (if you're confused on what this means or want a refresher, click here) and the Australian Energy Market Operator's (AEMO) own price forecasts showed continued high prices which would breach this cap.
However, there appeared to be some unwillingness from energy generators to have a repeat of last month, and the high prices (which would have caused a breach of CPT at the time) were squashed by rebidding on multiple occasions. Since that first week, the 7-day rolling sum in all regions is back to normal levels.
Negative prices across the NEM
In July, two of the 550 MW Liddell Power Station generators returned to service, which increased availability in New South Wales, and potentially contributed to the avoidance of breaching CPT again. In addition, a few strong wind generation days resulted in more hours of negative prices across the NEM in July over June.
Some interconnector constraints led to South Australia being electrically isolated from the rest of the NEM for periods of time. This resulted in large negative prices (when excess wind generation in South Australia could not go into Victoria) and high price volatility (when Victorian generation could not flow into South Australia to keep prices down).
Gas price update
In Victoria, gas prices have been artificially capped (after reaching their own version of the CPT) for weeks, and after supply levels in the Iona storage facility became concerningly low, AEMO intervened in late July to trigger the gas supply guarantee.
Under these directives, AEMO received more visibility over the sale and supply of gas across the NEM, and New South Wales began to source their gas from Queensland instead of Victoria. This resulted in Victorian gas prices finally coming out of administered prices, allowing for a circuit breaker of sorts.
Electricity price insights
Back to electricity, Queensland generation has also supported New South Wales through their two interconnectors. For most of the month, Queensland exported energy to New South Wales.
Between June and July, forward prices for 12-month contracts starting in January 2023 (the CAL2023 contracts) rose slightly in the two southern mainland regions and dropped in the north. These contract prices are well above prices for the same contracts this time last year.
New South Wales is up 217% from a year ago, and down 5% from June 2022
Queensland is up 288% from a year ago, and down 5% from June 2022
South Australia is up 190% from a year ago, and 1% from June 2022
Victoria is up 153% from a year ago, and 5% from June 2022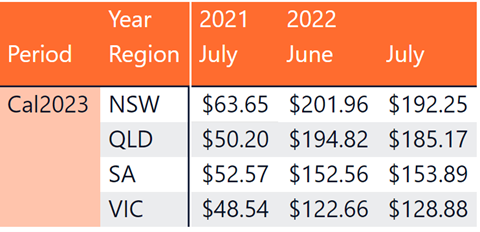 July 2022 NEM insights – by state
Click on our dynamic graph below to view the figures for your state:
New South Wales July 2022
Average spot price of $371.17/MWh, with 8 hours of negative prices and 539 hours above $300/MWh
$120/MWh difference in average underlying spot prices at the cheapest (mid-morning/noon) and most expensive (almost all other) times
Similar demand to July 2021, with a slightly higher demand through the middle of the day
Peak demand of 12,145 MW
Queensland July 2022
Average spot price of $400.23/MWh, with 30 hours of negative prices and 402 hours above $300/MWh
$210/MWh difference between the average underlying prices at the cheapest and most expensive times of day, likely due to large renewable generation through the middle of the day
Similar demand profile to July 2021, with slightly higher average rooftop solar generation
Peak demand of 8,771 MW
South Australia July 2022
Average spot price of $302.59/MWh, with 95 hours of negative prices and 483 hours above $300/MWh
$200/MWh difference between the average underlying prices at the cheapest and most expensive times of the day
Very similar demand to July 2021, though lower intermittent generation through the day (which was not seen in other mainland regions)
Peak demand of 1,683 MW
Victoria July 2022
Average spot price of $296.49/MWh, with 70 hours of negative prices and 494 hours above $300/MWh
$170/MWh difference between lowest (just after noon) and highest (evening peak) time-based average underlying spot price
Higher morning peak, though lower mid-afternoon demand compared to July 2021
Peak demand of 5,188 MW
Looking ahead to August 2022
As we move out of winter, we're expecting higher levels of renewable generation due to stronger winds, more installation of solar and longer daylight hours. In addition, winter demand has historically peaked in all regions before August, meaning demand should dip until the summer months. This combination of increased renewable generation and softer demand should hopefully lower wholesale prices (or at least reduce the risk of price volatility) for the next few months.
Continuing global pressures mean prices for thermal fuels (coal/gas) remain inflated so while prices might be lower than the past two months, it is unlikely there will be a massive drop in electricity prices.
The Bureau of Meteorology (BOM) has officially called the end to the current La Nina, though they have also noted that there is approximately a 60% chance of another subsequent La Nina season. This pattern is quite rare, and three subsequent La Ninas have only occurred twice in BOM records (in 1973-1975 and 1998-2000). If another La Nina season eventuates, it may result in 2023 being as cool and wet as this year.
The Bureau is also forecasting higher daily minimum temperatures compared to previous August months, higher maximums in eastern South Australia, Victoria, New South Wales, and far north Queensland, though lower maximums in Brisbane and southern Queensland. Like the previous months of this year, August 2022 is looking to be wetter than in previous years which may result in increased cooling demand and decreased solar generation.
Any questions? Our energy specialists are here to help.
If you're an existing Flow Power customer, please do not hesitate to reach out to your account manager.
If you're not a Flow Power customer, feel free to contact our friendly team:
📞 1300 08 06 08
Alternatively, you can submit your questions through our website contact form here.