What are the benefits?
Every business will see different benefits but at a high-level the kWatch® Controller can:
Provide data relating to business power use
Signal real-time alerts based on the power your site is using
Streamline process through the automation of power use
What does it do?
From your site, the controller delivers: Live data feeds: exactly how much power your operation is using and how much it's costing you via the Flow Power Portal. Alerts: Tailored updates relating to changes in your sites usage, demand or the market price. Automation: manage power use when prices change with automatic responses to market signals. And with the option of add-ons it can deliver so much more!
The Portal
The kWatch® modules provide you with more control and power efficiency.
Market Monitoring: Let us keep an eye on the market for you. 24/7 our experts will keep you up to date via SMS and emails so you know when to change your energy use or switch to a generator. This can be done by the click of a button using our kWatch® Controller.
Data Management: Integrate more inputs into your decision making with this module. In the portal you will receive real-time data feeds including current temperature, wind speed, air pressure other key weather factors, allowing you to take control of your power. Our experts are on hand to provide further advice.
kWatch® in action
We recently installed a kWatch® Controller for one of our cold store customers. It's placed next to their electricity meters and connects directly into their onsite generators and other important appliances. By logging into the Flow Power Portal, our customer tracks how much power they are using and what it's costing them. Intermittently, the controller sends the customer alerts (text messages and emails) to let them know that a short high price event is coming. The kWatch® Controller, allows the customer to respond to the market quickly (and remotely) to significantly reduce the cost, they will pay for electricity. In this example you can see the customer 'powered down', by switching to using their generator while the market price sky rocketed. This is one happy customer!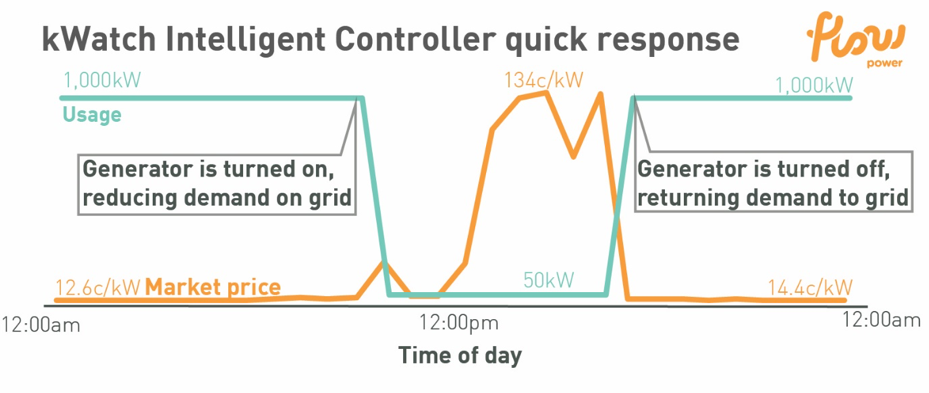 Need more information?