Key takeaways:
A new regulatory change starts on 21 October 2021 to encourage demand response.
Flow Power customers already get access to the wholesale price and all the benefits of demand response.
This does not impact Flow Power customers.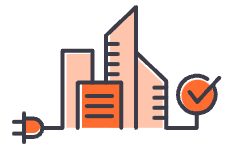 What is wholesale demand response?
Demand response rewards businesses for making changes to how and when they use power.
It helps businesses avoid high energy costs, unlock new revenue, and helps to support our energy system when it needs it. Put simply, it refers to changing your demand for power by responding to signals from the wholesale energy market.
Flow Power customers can engage in wholesale demand response. Our products encourage customers to be price efficient, which means you can benefit from being smarter with when you use electricity. Avoiding peak periods, and using energy when prices are low in the middle of the day can lower energy bills.
What is the new wholesale demand response mechanism?
The wholesale demand response mechanism is a new regulatory change being introduced starting on 21 October 2021. It lets a third-party aggregator sell demand response without being a customer's retailer. These third-party aggregators must bid into the wholesale market and respond to dispatch instructions from the market operator, AEMO.
The mechanism was designed for commercial and industrial energy users who are stuck on fixed price contracts and want to be able to do demand response. This is reflected in the rules and regulations that mean only customers who have no exposure to the wholesale price can participate. For those customers, the wholesale demand response mechanism creates another pathway for accessing the benefits of demand response.
The advantages of the Flow Power retail model over the wholesale demand response mechanism
At Flow Power, we've been a long-time supporter and facilitator of demand response! We're excited to see the recognition demand response is getting as a tool to help businesses lower energy costs, integrate more renewables into the grid and keep the lights on.
It is why we reward customers for being price efficient and participate in the Reliability and Emergency Reserve Trader (RERT), which provides emergency reserves to help with managing grid reliability.
Because the National Electricity Rules don't let customers with access to the wholesale price use the wholesale demand response mechanism, Flow Power customers won't be able to join. However, because our customers already get rewarded for being price efficient, they're not missing out.
Flow Power customer benefits:
In fact, as a Flow Power customer, you may also get some benefits not necessarily available to customers participating in the wholesale demand response mechanism, including:
Benefiting from low (and sometimes even negative) wholesale prices, often in the middle of the day.
Complete discretion sitting with the customer with what they do and when.
While we will help our customers with demand response, including notifying them when prices might be high, it is always the decision of our customers whether they change their energy use or not.
On the other hand, participating in the wholesale demand response mechanism could come with requirements to ramp down on short notice (or penalties for not shutting down). This is because the participating demand response aggregator will be dispatched by AEMO, and there are obligations associated with being dispatched.
Access to engineering support for our customers with Energy Ready.
Energy Ready will help our customers find ways to improve price efficiency, which including demand response, load shifting and energy efficiency.
Any questions? We're here to help.
If you're interested in learning more about the wholesale demand response mechanism, our friendly team are always available for a chat.
If you're an existing Flow Power customer, please do not hesitate to reach out to your account manager.
If you're not a Flow Power customer contact our friendly team today:
? 1300 08 06 08 (within business hours)
?️ Live chat message (within business hours via the chat button at the bottom of your screen)
Alternatively, you can submit your questions through our website contact form here.