With more and more renewables becoming integrated into the grid, we know business' can benefit from a greater understanding of how power costs are broken down.
First, let's break down the individual charges that make your power bill. One of the first steps to connecting your business to market signals is understanding how power costs are broken down.
Now, let's break down those elements:
Approximately just over 50% comprises of network costs, which delivers energy via a network to your business. This charge also includes the cost to build and maintain these networks including electricity wires , gas pipes, and metering fee's including the CT Compliance testing levy.
The next section comprises of the cost to produce power which sits at approximately 25%
Retail prices included in the next section. This cost includes managing customer accounts. If your business is connected to the wholesale market, the retail price will be lower.
Government charges or green costs comprise of approximately 5% of your power bill.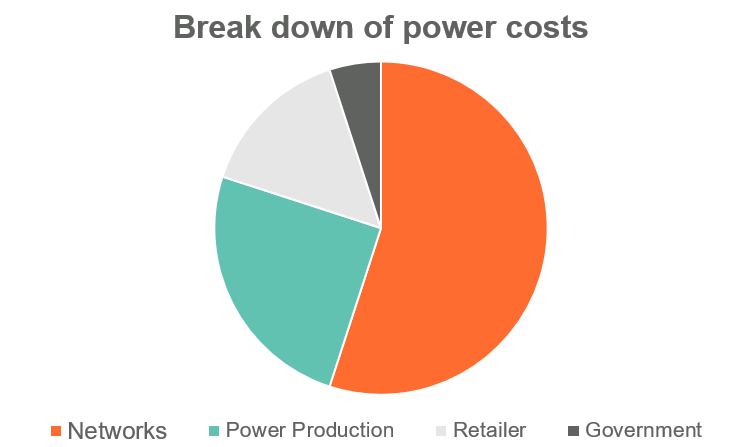 Any questions? We're here to help.
If you're interested in learning more about your power bill, our friendly team are always available for a chat.
If you're an existing Flow Power customer, please do not hesitate to reach out to your account manager.
If you're not a Flow Power customer contact our friendly team today:
📞 1300 08 06 08 (within business hours)
🖥️ Live chat message (within business hours via the chat button at the bottom of your screen)
Alternatively, you can submit your questions through our website contact form here.