With an increased number of low cost renewable energy coming online, as well as the temptation of cheaper renewable energy certificates, corporate renewable power purchasing agreements (PPA) are a growing trend in Australia.
What is a corporate PPA?
Put simply, a Corporate PPA is a long-term contract between a business and a power generator. A business agrees to purchase electricity directly from a generator for a fixed-price through the National Electricity Market. In the case of renewable PPAs, the energy is from renewable sources such as wind, hydro or solar.
There are two main types of Corporate Renewable PPAs, physical or financial. Physical PPAs involve an on-site, or nearby renewable generation source while financial PPAs is when a company agrees to purchase renewable energy as a financial hedge and the generation is not nearby.
Behind the Meter PPAs
The energy user installs some form of technology that is generating power before the connection to the market. Examples include rooftop or on-site solar or wind installations, such as the solar farm powering Sun Metals' refinery in Far North Queensland, and Neoen's wind and battery backup supplying energy to Victoria's Nectar Farm agribusiness.
In most cases, behind the meter PPAs still require grid connections to allow for times when the renewable energy generation cannot meet demand. Depending on the contract, the generator may be able to sell excess power back to the grid.
Co-locating batteries and other technology such as pumped solar may see this type of PPA become increasingly popular particularly for large consumers in more remote locations. They have many advantages and make it easy to trace exactly where your power comes from. Their main drawback, however, is that not many businesses have the space for on-site generations.
Virtual PPAs
For businesses that don't have enough room for on-site renewable generator, there are virtual PPAs, where the consumer agrees to purchase renewable energy from an off-site source.
These are essentially financial "hedges" that involve an agreement with a renewable generator for a fixed price usually over a long-term contract of up to 10 years.
Under Flow Power's renewable PPAs, customers buy direct from the wholesale market in real time and a portion of their energy is hedged though the purchase of renewable generation. Any power that is not used by the business is sold back to the market or to Flow Power.
Several Flow Power customers, including Olam Orchards, ANCA and Idyll Wines have signed up to the unique Corporate PPAs, allowing them to offset their electricity consumption and potentially save thousands of dollars in electricity costs and reduce overall emissions.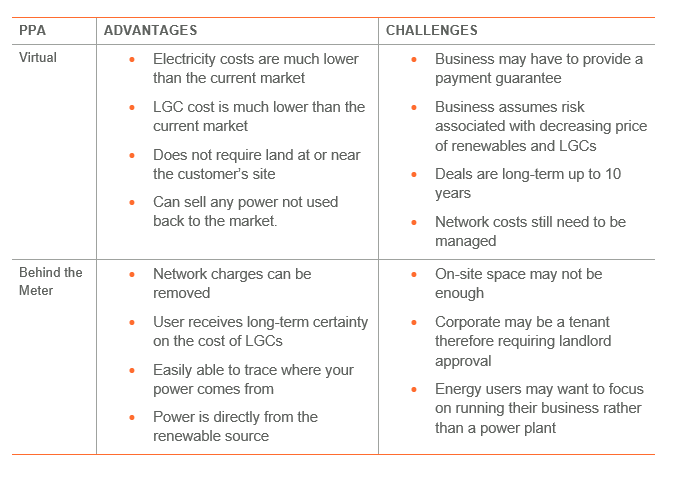 Any questions? We're here to help.
If you're interested in learning more about Power Purchase Agreements, our friendly team are always available for a chat.
If you're an existing Flow Power customer, please do not hesitate to reach out to your account manager.
If you're not a Flow Power customer contact our friendly team today:
📞 1300 08 06 08 (within business hours)
🖥️ Live chat message (within business hours via the chat button at the bottom of your screen)
Alternatively, you can submit your questions through our website contact form here.