Cold stores' most energy intensive operations can also help them save on energy costs. Here's how:
Delivering refrigerated goods from suppliers to buyers or ports is a key part of many businesses' supply chains.
For cold storage businesses, there are some unique challenges in getting this done.
Storage organisation
Constant monitoring of temperatures
Seasonal temperature changes
Energy management
These challenges also make cold storage businesses the perfect fit for energy management. Thanks to their refrigeration systems, cold stores can easily take part in demand management and energy efficiency measures to help drive down energy costs.
Energy management strategies for cold storage
Cold storage businesses can benefit from energy management strategies including:
Demand response;
Using smart tools for assessment including installing data monitoring equipment onsite, like our kWatch Intelligent Controller;
Data monitoring to help with energy modelling for future sites and estimate future energy use and requirements
Understanding of their products, in certain circumstances cold storage businesses are able to unlock additional value by taking advantage of the cold store's flexibility for short durations without compromising its product.
Let's take a look at how this would work in practice…
Looking for ways to better manage energy and reduce costs, one cold storage and logistics business in South Australia began working with Flow Power to better understand their energy usage.
After analysing their data, the engineering team was able to project significant savings on their annual energy costs by building an energy management strategy, highlighting key times to perform demand response.
For cold storage businesses, demand response can be done by simply precooling the refrigerated storage and allowing a partial shut down of compressors; retaining the same thermal mass for a number of hours.
This allows the cold storage to engage in demand response with no impact to the product or business operations. During the partial shut down, the temperatures are kept within required ranges for business operations and health and safety limits. In addition, businesses may choose to shift load or productions to an alternative time, for example the charging of equipment such as forklifts to avoid times of high demand.
In addition to demand response, the engineering team created a range of strategies and long-term recommendations to help the business make the most of their energy management strategy.
We can see from the chart below that the business' energy usage on a monthly basis remained steady, aside from January 2019. Warmer months, like January, typically mean higher prices but lower wholesale rates over the year balance this out.
Simply reducing energy use by 50% over just five hours on one day in January the business could have saved more than $20,000 (approx.) on their annual energy costs.
If the cold storage business had shut down its operations entirely, this could have resulted in savings of $36,000 (approx.).


More often than not, only a handful of hours can make up a large portion of a business's energy costs.
This was the case for the cold store, as we can see in the chart below which shows half hour intervals by price in January 2019.
Just 2.5 hours in total were responsible for 5% of the business' annual energy costs, and a further six hours made up 10% of annual energy costs.
It's also worth noting that 4.5 of the most costly hours occurred in a single afternoon, January 24, 2019.
That's why taking action, even just during short one-off periods, can play a major role in driving down annual energy costs.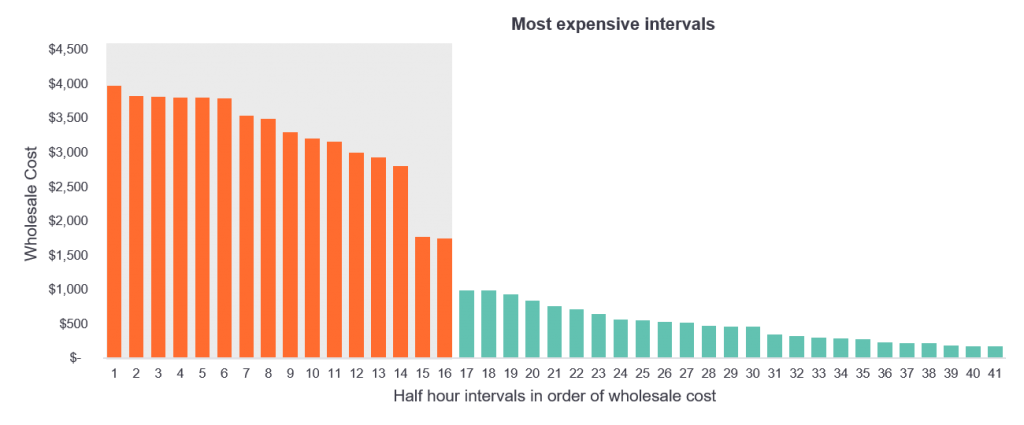 Doing demand response can also help the business improve its Price Efficiency Adjustment (PEA) by adjusting their energy use to better align with daily lows in the energy market.
Over 13 months, the cold store's PEA remained steady, however, with the implementation of demand response and better overall energy management, the PEA could be lower or even negative, where it would act as a discount to the contract.
While cold storages must keep their temperatures steady, it's their refrigeration that also puts them in the perfect place to do demand response and save.
Key takeaways
Before trying to manage your energy, auditing your energy use can go a long way into helping define a strategy before you act.
As cold storage relies heavily on power to run its business, data monitoring devices can enable your energy partner to better understand how you use power and where to take action.
It'll also help you understand where you have opportunities to save. You may not know what operations are flexible enough to enable demand response but the right data can help you identify these opportunities.
If you're looking at energy management and demand response, consider how you can also be more energy efficient too. Making the switch to energy efficient lighting, equipment or investing in insulated high-speed doors can help drive down energy prices too.
Any questions? We're here to help.
If you're interested in learning more about energy management strategies for your business, our friendly team are always available for a chat.
If you're an existing Flow Power customer, please do not hesitate to reach out to your account manager.
If you're not a Flow Power customer contact our friendly team today:
📞 1300 08 06 08 (within business hours)
🖥️ Live chat message (within business hours via the chat button at the bottom of your screen)
Alternatively, you can submit your questions through our website contact form here.