And now, Flow Power has created a hybrid corporate renewable Power Purchase Agreement (PPA), which is also known as a virtual generation agreement (VGA). This is because it combines wind and solar power to deliver an energy solution that best meets the needs of the businesses that sign these deals.
Corporate renewable PPAs, whether hybrid or singular, benefit businesses, regardless of what industry they operate in. Just take a look at the variety of businesses that have signed onto these agreements, from big multinational players like Mars and Olam Orchards to Burra Foods and the Commonwealth Bank of Australia.
These agreements, whether wind or solar, are already being used by businesses to deliver a long-term cost-effective energy solution. While singular PPAs only allow businesses to contract the output of one renewable generator, Flow Power's hybrid PPAs leverage the best of wind and solar to deliver greater benefits.
So, how can a hybrid renewable corporate PPA work for your business? We've rounded up the benefits below.
Match your generation

Sometimes, the sun shines while the wind blows. Sometimes it doesn't and this will determine what power you buy and how much of it. While there can be overlap between when wind and solar generate power, wind is generally less limited by the time of day when compared to solar. Very often wind will keep on blowing long after the sun has set.
The portion of wind or solar generation that you contract through a PPA will depend on how your business uses energy, while any gaps can be filled by the wholesale market. This also means that any excess generation can be sold back into the market at the spot price.
For example, a business that undertakes energy intensive activities during the afternoon may need a higher portion of solar power compared to wind.
The diagram below outlines how businesses can leverage wind and solar through a hybrid PPA to meet their needs.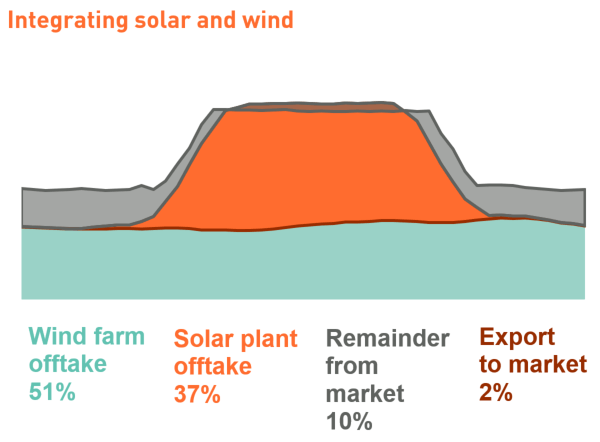 Bring down your costs
Renewable sources are now the cheapest source of new generation, filling the gap left by the closure of aging coal fired power stations. Interest rates are low but competition to secure renewable PPAs is high. This is why businesses will see greater financial benefits when signing PPAs earlier, rather than in two to three years time.

Put simply, PPAs benefit businesses. They offer low-cost, secure renewable power for long-term periods and enable businesses to meet sustainability goals while also supporting Australia's pipeline of renewable projects.

There's just one catch – the offtake from renewable generators secured by retailers like Flow Power is limited and once it sells through, PPAs with certain wind and solar farms will no longer be available.

A flexible energy solution
For today's businesses, there is no one-size-fits all power solution. Instead of traditional fixed-rate contracts, businesses need flexible energy agreements that support their rapidly evolving needs.
PPAs are flexible by design. During the design stages, retailers assess a business's energy consumption profile and needs to determine the most suitable source of generation. Hybrid PPAs take this one step further by offering a blend of wind and solar, leveraging the best of both sources for a tailored, flexible energy solution.
Keep it cleaner
If your business has sustainability goals or commitments in place, corporate renewable PPAs offer a pathway to fulfil these goals. Businesses can contract corporate renewable PPAs that meet as much as 100% of their energy consumption, making them fully renewable.
In addition to this, the businesses that get behind corporate renewable PPAs generate important investment for Australia's renewable projects. In fact, it would take as few as 670 medium-sized businesses signing onto corporate renewable PPAs to drive investment in more than 1845 MW of renewable generation.